Titan is one of the available characters in Mindjack.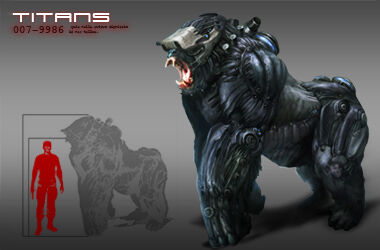 General Information
[
]
Type: G7 Titan Gorilla
Call Sign: Titan
Affiliation: Nerkas
Mind Hack: Red Team
Mind Slave: Yes
Description
[
]
THE G7 TITAN
Crush your enemies. See them driven before. Hear their lamentations. The G7 Titan will do it all—without any of the usual hassles of dealing with human soldiers. The Titan is the ultimate weapon. With our innovative hybrid technology, Nerkas Solutions has fused the savage instincts of a silverback gorilla with the lethal power of a hunter/seeker combat droid. The result is a weapon that's both combat-effective and cost-efficient. Upkeep is simple: just provide your Titan with a suitable cage, a bowl of water and optional poop-pail. You can even save on feed costs by allowing the Titan to eat the bodies of their kills—they go bananas for the taste of human flesh! Of course, every Titan unit has been hardwired with Mind Wave technology—so they're guaranteed to be 100% obedient to your mental commands. 
The G7 Titan features:
Exclusive Nerkas Hybrid Technology
Infrared Motion Detection
Remote Communication System—See Through Your Titan's Eyes Using Mind Wave
Combat Plating & Reinforced Skinwelding for Durability
Chemically Enhanced Strength & Agility
6-Month|60-Kill Unlimited Warranty