MindJack
 is a 
third-person shooter
video game
 developed by 
feelplus
 and published by 
Square Enix
. The game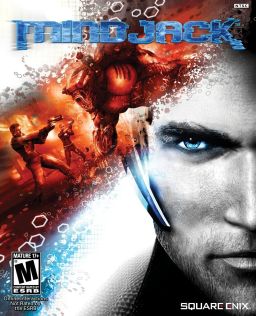 was released for 
PlayStation 3
and 
Xbox 360
 on January 18, 2011 in North America,
 January 21, 2011 in Europe, January 27, 2011 in Japan and February 10, 2011 in Australia. The game was originally planned to be released in October 2010 for 
North America
 and 
Europe
 but it was pushed back to January 2011. 
MindJack 
takes place in 2031, when the world's governments are in decline and new corrupt organizations are arising. The player can "hack " into and control enemies, vehicles, or civilians.
In the campaign story mode, the game is 
single-player
 but "transitions seamlessly" into 
co-op.
Gameplay

[

edit

]
MindJack is a third-person shooter incorporating a cover system. The player character can carry two weapons and grenades. The player can mind hack civilians and weakened enemies, controlling them as the player character while the main character is controlled by artificial intelligence. Weakened enemies can also be turned to the player's side, becoming allies. Online players can "hack" into a person's single-player campaign and take control of the AI enemies while Player 1 plays the game's story campaign. The online players may help the solo player by attacking other enemies or they can attack Player 1 themselves.
Development

[

edit

]
The writing of MindJack's story and script was outsourced to an unnamed company in the United Kingdom as the game was thought to have a greater appeal to Western players than with a scenario created by a Japanese author.
Reception

[

edit

]
MindJack was universally panned with critics complimenting its gameplay concepts but criticising it for its weak story, enemy AI, aesthetics and gameplay. Aggregating review websites GameRankings and Metacritic gave the PlayStation 3 version 45.58% and 44/100and the Xbox 360version 45.28% and 43/100.
1UP.com found nothing to like about the game, calling it a "lazy, corporate-mandated cash-in." Eurogamer called it "a strange blend of Resident Evil 5, Uncharted and Minority Report," stating "If you can look past the lack of polish and horrible graphics, there's a compelling and unique take on cover-based shooters here, along with an interesting lesson on how games deal with plot. It's a rewarding little game, if you can hack it."GameSpot praised MindJack's concept and online multiplayer, but concluded "Mindjack does have a few bright spots, but they are smothered beneath the weight of the awkward controls and squandered potential." IGN summed up their review with "Mindjack is ultimately a frustrating and forgettable shooter with horrible presentation, clumsy controls and a plodding campaign. It serves up a next-gen idea with its unique multiplayer design yet delivers it in a horribly last-gen package." Official Xbox Magazine UK's verdict was that "Nobody in their right mind should buy this".
Community content is available under
CC-BY-SA
unless otherwise noted.