Furie
is one of the available characters in 
Mindjack
.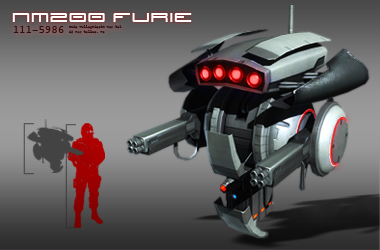 General Information
Edit
Type: NM200 Air Attack Mech
Call Sign: Furie
Affiliation: Nerkas
Mind Hack: Red Team
Mind Slave: Yes
Description
Edit
NM200 FURIE AIR ATTACK MECH
With the Furie Air Attack mech, your enemies will reach for the sky… right before they get shot in the face. The Furie is an ultra-precise aerial assault platform, equipped with both heavy duty cannons and rapid fire machine guns. Originally designed as a scouting droid, technological advancements have helped us evolve the Furie into a powerful air assault mech, perfect for taking out those hard-to-reach targets. 
The NM200 Furie Air Attack Mech features:
Front and Rear Facing Concussion Cannons
Dual Machines Guns
Flight Stabilizer Technology
With Altitude Capability of Over 2 Miles
Mind Wave Integration
SureShot Laser Targeting System
Available Optional Warranty